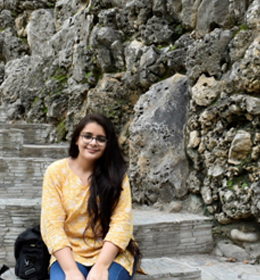 Name: Anubhav Preet Kaur
Email: anubhavpreetk@gmail.com,  ph19007@iisermohali.ac.in
Name of the supervisor: Dr Parth R. Chauhan
Research Focus: My research focuses on identification and understanding evidences of hominin occupation in the Pinjore Formation of north-western India. The Pinjore Formation is the most extensive Early Pleistocene deposit in the Indian Subcontinent. Using GIS and remote sensing I am currently working on developing various models for accurate site identification and documentation in the region. My work also uses vertebrate palaeontology, Palaeolithic archaeology and geology to interpret and understand patterns of hominin occupation in the region and the human-animal-environment interface.
Websites: https://www.researchgate.net/profile/Anubhav-Kaur
Education: M.A. in Ancient Indian History, Culture and Archaeology, Deccan College Post-Graduate Research Institute, Pune (May 2019)
B.A. in History, Dayanand Anglo-Vedic College, Sector 10, Chandigarh (May 2017)
Fellowship/Scholarship: Institute Fellow at the Indian Institute of Science Education and Research, Mohali
Title of the thesis: Identification of patterns of hominin occupation in the Pinjore Formation of north-western India, using Palaeolithic Archaeology, Vertebrate Palaeontology and Remote Sensing
Selected Publications:  Kaur, Anubhav Preet, S.G. Deo, J. Joglekar and M. Chatterjee (2019). A preliminary study of the lithic assemblage from Palaeolithic localities of the Hoshiarpur Siwalik Frontal Range, Punjab, India. Bulletin of the Deccan College Post-Graduate and Research Institute, Vol. 79, pp. 1-19.